The English translation follows, below. : )
Cómo me dan ganas de comer me un
Pan Dulce
. Y no hablo de cualquiera. Si no de mis favoritas, deliciosas "
conchitas
." Las estraño tanto. No he tenido la suerte de encontrar una panadería mexicana que me satiface, cerca de mi casa.
Algo mas of menos chistoso ... hace varios años, allé una conchita en una tienda Latina.
Solo habia un problema chiquito. El pan -- tenia la forma y color de una conchita -- hasta holia como una -- pero en realidad parecía una piedra pintada de color de rosa. No le hace que tan fuerte le mordia al pan, mis dientes no le entraban.
*un suspiro*
Si quiera me ahore las calorias.
Tiene usted un Pan Dulce favorito?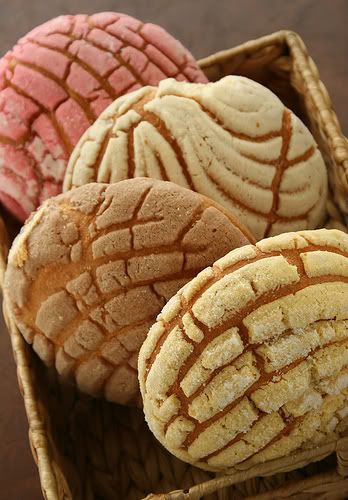 Boy, do I have a craving for
Mexican sweet bread
. I'm not talking about just any kind, either. Rather my favorite and delicious "
conchitas-shells
." I miss them so much. I haven't been lucky enough to find a Mexican bakery I'm happy with, near my home.
A kinda, sorta funny story. Several years ago, I found a "conchita-shell" at a small Latino market. There was only one small problem. The "conchita-shell" -- although it had the shape and color of one -- and even smelled like one -- it might as well have been a rock painted pink.
It didn't matter how hard I bit into it, my teeth wouldn't break the surface of the bread.
*sigh*
At least I saved myself the calories.
Do you have a favorite sweet bread?