Mis padres nunca nos permitieron ver programas en español. Menos las telenovelas. Quizás fue por que querian que aprendiéramos el inglés lo más pronto posible. De todos modos, así nos acostumbramos.
Se pasaron los años, y quando mi mama se mudo de California, a vivir con nosotros en Massachusetts, se trajo con ella una maña pequeña y contagiosa. Como ya se habia retirado, ella tenia bastante tiempo en sus manos. Adivine como se pasaba el tiempo ... Si! Viendo telenovelas!
Ella fue la que me presento a la famosa AMIGAS Y RIVALES (2001). Solo me tomo ver un capitulo para hacerme adicta a esta historia de amor y vengaza. Todas las tardes, llegaba del trabajo preparada a descubrir que iba ocurrir en las vidas de estas cinco muchachas (Nayeli, Jimena, Ofelia, Tamara y Laura), cada una con sus propias tragedias. No me pude despegar de la pantalla hasta que se termino la serie televisiva.
Ahora, quando entro a la habitación de mi mama, tengo mucho cuidado. No me siento por mas de unos cuantos minutos. Tengo mi niño, mi marido, y mi torre de libros, todos buscando me. Quisiera tener el tiempo, por que las telenovelas son perfectas para practicar el español.
Pero es imposible ver solamente un capitulo!
Las que las ven, saben de lo que hablo. No se hagan que no. : )
¿Te vuelves loca por las telenovelas?
¿Qual es tu favorita?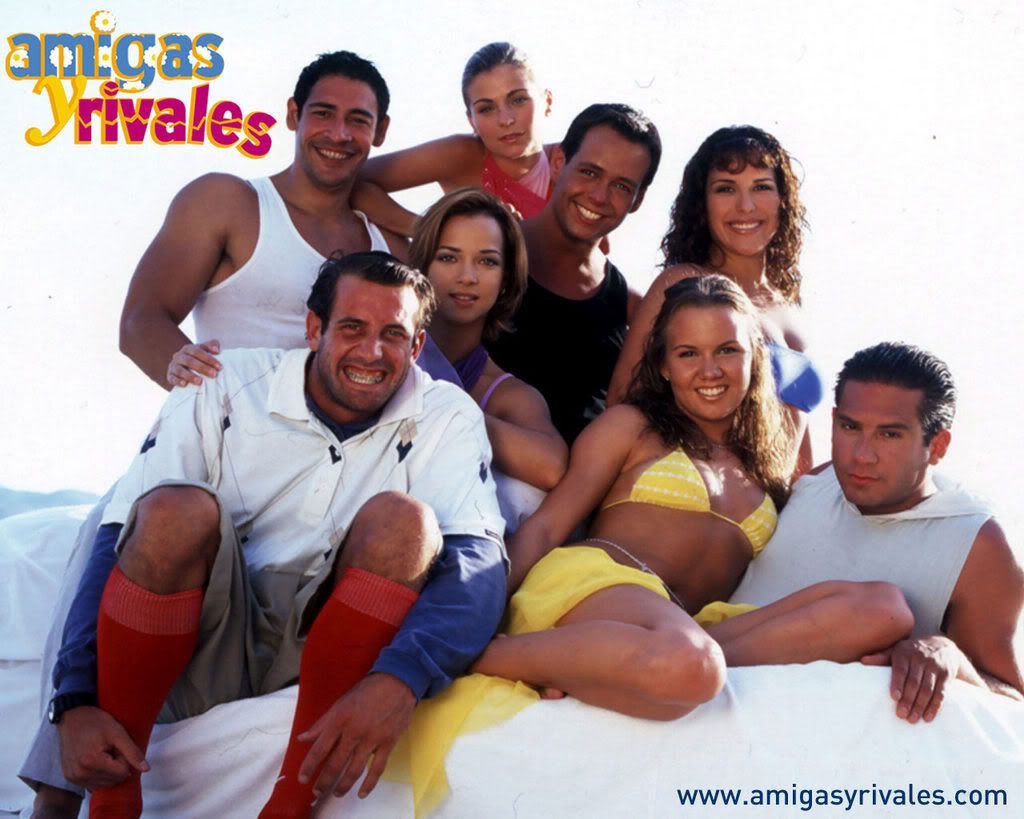 My parents never allowed us to watch Spanish programs. Least of all Spanish soap operas. Maybe it was because they wanted us to learn English, as quickly as possible. Regardless, that's what we got used to.
Years went by and when my mother moved from California to live with us in Massachusetts, she brought with her a contagious little habit. Since she'd retired, she had a lot of time on her hands. Guess how she spent it? Yup! Watching Mexican soap operas!
She's the one who introduced me to the famous FRIENDS AND RIVALS (2001). It only took one episode for me to become addicted to its story of love and revenge. Every afternoon, I'd come home from work ready to discover what was going to happen in the the lives of these five young women (Nayeli, Jimena, Ofelia, Tamara y Laura), each with her own tragedies. I wasn't able to come unglued from the TV until the series ended.
Now, whenever I go into my mom's apartment, I'm very careful. I don't sit for more than a few minutes. I have a son, husband, and tower of books, all calling out to me. I wish I had the time, since Mexican soap operas are perfect for practicing Spanish.
But it's impossible to watch just one episode!
Those of you who watch them know exactly what I'm talking about. Don't pretend you don't. : )